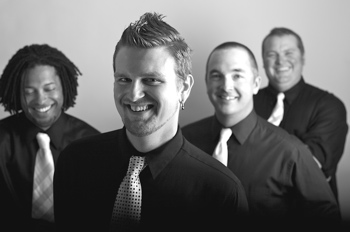 As seasoned veterans, Brownstone has the ability to read an audience and keep their performances incredibly flexible. Whether playing high volume parties or intimate private functions, Brownstone is ALWAYS a crowd pleaser. From acoustic duo to full band production you are guaranteed an amazing performance and a very satisfied audience. Brownstone has played all over the southeast. In addition to touring, they have shared the stage with acts such as Lynyrd Skynyrd, Ted Nugent, Incubus, and The Toadies. Festivals includes Music Midtown's main stage and the Atlantis Music Conference.
Influenced by trendsetters such as Dave Matthew's Band, Incubus, and Led Zeppelin, Brownstone continues to evolve and expand their style. Their set list includes hit songs from the 70's, 80's, and 90's as well as a sizable collection of "modern" music. This process allows them to play high-energy, out-front shows as well as more intimate acoustic sets with no loss of "dazzle." Planning a wedding? — Brownstone is a Modern Band for the Modern Bride.
"We feel that at your wedding, you should be able to dance to songs of YOUR generation…not your grandparents. While we do include Classic Greats, we also believe that modern artists have earned their place as classics of our generation. We want everyone to be happy!! We know how important it is for everything to be perfect on your special day. We also know how stressful it can be planning perfection. That's why we work closely with you every step of the way to ensure that your reception goes off without a hitch. We provide not only the coordination and entertainment portion of your wedding reception, but also the wedding party introductions, dance dedications, and all other Master of Ceremony needs."
Features:
DJ sets Between band sets.
High Fidelity sound system, using JBL Speakers, Mackie and Crown Amplifiers, Mackie Mixing Board and Sure Microphones and Ear Monitors. Basic light package also included.
Electronic drum kit available upon request to help control volume in more intimate venues.
Acoustic dinner set available in addition to "party band" sets.
Pre-event consultations to determine special song requests, announcements, and dedications requested by you!
Early set-up of equipment and a neat, tidy stage.
Flexibility to perform as a 4 piece, 5 piece or Acoustic Duo.
SOUND SAMPLES
TESTIMONIALS
"Hi Rich,
So sorry for the delay in my reply!! It has been an action packed couple of weeks, and then we were out for spring break. I am still catching up from the closure of spotlight. Everything (Brownstone) was fantastic and the guys did a great job. We were very happy with everything!
Thanks so much for keeping up with me and your wonderful service! Much appreciated!!! Alice"
School fundraiser, Delta Hanger Museum, February 14, 2015
———————————————————————————————————————–
"What can I say about Brownstone? They completely exceeded our expectations. From start to finish, I was impressed. Dennis and I had two consultations via phone prior to the wedding. He was so respectful of my opinions and ideas, and took the time to find out what we were looking for as opposed to telling me how weddings typically go. His expertise at coordinating these events shone through during both conversations and I was absolutely at ease putting our wedding reception into his hands…what a relief!
On the day of the wedding, Dennis found me beforehand and introduced himself. When we were announced, he pronounced everyone's name correctly and really got the crowd on their feet. Their outfits were completely appropriate for the event and they seemed happy to be there, which meant more than I realized it would. The song selections were perfectly on point and they did an excellent job of reading the crowd and figuring out when to really let go and when to reign themselves in.
One of the most amazing parts of the night was when the band invited my dad onstage to play bass. They didn't even flinch when I ran up there and grabbed a mic to sing along! How many brides can say their dad played with the band on their wedding day? It's one of the best memories made that night and all the credit goes to the band!
I've had so many compliments on the wedding and one of the most common is about Nelson Brownstone. The dance floor was packed all night and that is exactly what I wanted! We all had an amazing time filled with so much fun and so many laughs. This would not have been possible with any other band- I'm absolutely sure of that.
Thank you so much for everything. I will certainly leave excellent reviews on all the wedding sites I can find. We just can't thank the guys of Nelson Brownstone Band enough!"
– Trey & Kate Bass, September 2010
---
"Nelson Brownstone Duo was INCREDIBLE. Everyone loved them and I will definitely be in contact with you in the future about potentially booking the full band for parties. I have also given your email to our social chairs so they can do the same if they choose to do so. Thanks so much!"
-Shawn, Georgia Tech Rush Party, August 2010
---
"The band was absolutely FABULOUS! We are still having people tell us how good they were and asking us where did we find them. I'm definitely spreading the word."
-Jessica, Bride, March 13, 2010
---
"I can not tell you how pleased we are with the band. The time that Dennis put into the preformance before hand was amazing to us. The personal attention that Dennis showed us was something that we never expected. Dennis gave us plenty of options and the band was open to doing almost anything. They also had great suggestions for a nervous bride who did not know all the details of planning reception. They were so much fun. We did not want to eat we just wanted to start dancing to the music. Everyone has told us what a great time they had at the reception and all of the credit goes to the band. I have several people interested in hiring them after the first of the year. Keep up the good work. They were more than I ever expected."
– Jennifer Q., Bride, Nov 15 2008
---
"Rich did a great job of securing Nelson Brownstone for our event. This event was for our 2008 summer associates. The attorney hiring manager and caterer want to use Nelson Brownstone again! Thank you for everything"
– Margaret D.,June 5, 2008 Alston & Bird / Corporate Event
---
"We really enjoyed Nelson Brownstone! We danced the entire night and really appreciated them taking the time to learn our first dance song by David Gray "the one I love" . Thank you for helping make our night so special."
-Ashley Reeves, Bride, June 15, 2008
---
"Everyone keeps telling me how great you guys were. Thanks so much for everything…you made the night perfect!"
-Danielle, Bride, May 31, 2008
---
"Nelson Brownstone played at my daughter Catherine's wedding on April 12, 2008 at Atlanta National Golf Club. We are SO delighted with our choice – the guys, led by Dennis Brown are some of the nicest people I have met. They were timeous in their set up and worked really well with the event manageress – very professional. They were beautifully dressed in black – were lots of fun and seemed to enjoy the wedding as much as we did! I cannot speak highly enough of these fellows – and so far have said nothing of their music … their range of music is outstanding, volume always seemed appropiate and they had something for everyone – the 20 year olds were as happy as the grooms grandparents who celebrated their 66th wedding anniversary with a special dance announced SO kindly by Dennis. A special thanks to Dennis for handling a tricky situation for me with aplomb. Thank you, thank you for helping to make this wedding a very happy occasion. We would not hesitate to use Nelson Brownstone again or indeed to recommend them so highly."
-Jane Gallow, Mother of the Bride, April 12, 2008
---
"I really appreciate the wonderful performance that you all did for our Holiday Party. I want you to know that I have never had the wonderful comments from any of our other parties! EVERYONE really enjoyed your performance!"
-B. Hutchings, Vice President Operations, Maxum Specialty Insurance Group / January 2008
---
"I have never had such a good time! Every guest kept telling me it was the best reception they had ever been to!"
-A. Baughman, Bride / September 2007
---
Men's Member/Guest Dinner Dance: "we received many positive comments from the guests. They enjoyed the band so much that we wanted them to play a few hours longer. Thanks for all of your help with this event as well as the others." Beth
---
Wedding Reception Atlanta Country Club: "wonderful band! Thanks so much!" Caleigh Cantrell