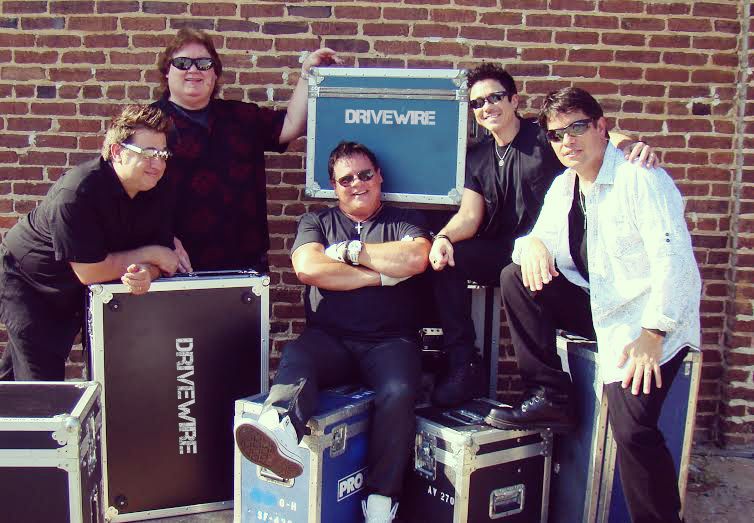 When you hear DRIVEWIRE play these super hits of the best arena rock bands of the 70's and 80's, the songs take you back to the exact place and time when you first heard them on the radio. Relive some great memories of your past with some of the best rock music ever recorded. DRIVEWIRE can take you there as if you were hearing all the original artist live in one concert.
DRIVEWIRE is five seasoned and veteran musicians, all who have toured the world with other bands. All members are also highly skilled vocalists which makes this band even better. The band's impressive harmonies and vocal ability is strongly emphasized in each song they perform. Covering songs that are almost impossible for the original artist to perform live, DRIVEWIRE literally sounds like the originally recording in their live show. ​​
DRIVEWIRE is known for making every gathering a throwback party. Dance, listen, or sing along to every huge hit the band performs. Make your next event the talk of the town – musically unique and creative. DRIVEWIRE is not another band to tribute a single artist, this band tributes an entire music genre of an era you won't hear in one single show. It's like turning on your favorite rock stations from the 70's and 80's combined, but it being played live.
Our Niche
DRIVEWIRE is not a variety cover band. Every song selected for the show is carefully discussed and researched of its popularity during the time it became a huge hit, and tested in the show to affirm audience reaction. ​​The uniqueness of DRIVEWIRE is that the band tributes a very specific genre that happens to be widely popular and admired by music lovers of the 70's and 80's. Why those decades? Because that was the era that popular rock bands toured a circuit of arenas, aka venues. They were then known as arena rock bands.
Our Audience
At every DRIVEWIRE show, the feedback is overwhelming. Strangers become instant fans. People are constantly saying, "that song brings back so many great memories," and "we haven't heard that song in so long," and "we've never heard a band be able to play those songs live, not even the original artist." Our favorite feedback from our audience is "you guys are as fun to watch as you are to listen to – great show." The audience is a big part of our show. Interaction is a big part of our show. Be careful, we may just get you up on stage with us.
Our Show
Two words best describe a DRIVEWIRE show, HIGH ENERGY. The bigger the stage, the better. We'll use the entire size. However, we can accommodate, smaller stages, but the visual show will not be as exciting. We take the arena rock thing seriously fun. ​​We are completely self contained with production, or we can work with your production crew. We perform for all types of events and occasions. Our forte is corporate functions, themed events, reunions, opening for national acts, festivals, etc.
Bands We Tribute
List of just some of the bands we tribute:
AC/DC
Autograph
(The) Babys
Boston
Foreigner
Head East
Honeymoon Suite
Jefferson Starship
Journey
Kansas
Loverboy
Night Ranger
(The) Outfield
Queen
REO Speedwagon
Rush
Scorpions
Styx
Survivor
Toto
Triumph