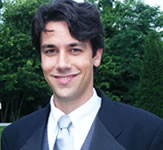 Do you love to dance? If so, Josh is your DJ.
DJ Josh has served as a professional DJ since 2001. With that experience, he knows what to say and what to play to make sure your guests remember your event as a blast and not a bust.
He specializes in weddings for ages 20-35. Josh also DJs for several school dances, teen parties, and name that tune parties.
Fun facts- he has served as the University of Georgia's Hairy Dawg mascot from 2002-2005. He has choreographed a music video. Josh also has a CD out called Fruits of The Spirit: I See a Tree.
All that to say, Josh Loves music, and he loves
dancing. He will make your guests feel the same way.
DJ Josh Sound System:
2 Yorkville nx520p powered speakers w/ stands
RCF ART 705-AS subwoofer
Yamaha MG-12 4fx mixer
2 chorded mics
2 laptops with itunes
2 ipods
Chauvet Hurricane 700 fog machine
Chauvet Mini Moon (Light)
Chauvet Mini Line Dancer (Light)
TESTIMONIALS
DJ Josh did a great job. Played lots of requests but nothing inappropriate.
Fun, easy to work with… would highly recommend.
Kathy Cote
---