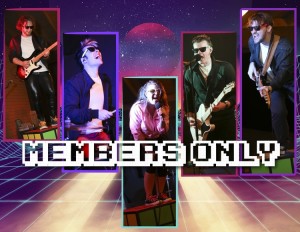 MEMBERS ONLY is Atlanta's hottest 80's tribute band!  Featuring an amazing group of young & energetic musicians, MEMBERS ONLY has played for thousands of people over the southeast and can cater their explosive show to your needs!
MEMBERS ONLY is fronted by the amazing duo of Adam Johnson and Amber Leigh.  Both vocalists have amazing presence and range and combined present a huge swath of 80's hits for your enjoyment!
Covering everyone from A-Ha to WHAM! and with clients from corporate America to Municipal government, MEMBERS ONLY is your ticket to an amazing 80's flashback!