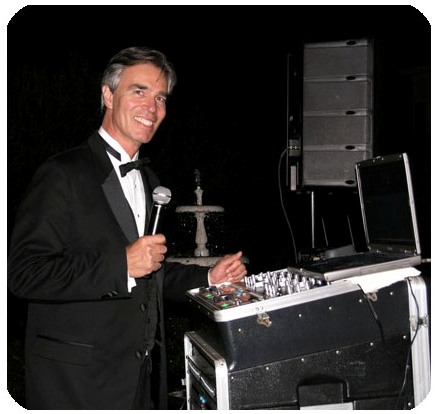 DJ Mark is a professional Atlanta radio DJ with over 20 years of broadcast and entertainment experience. He was the anchor of the original 96 Rock wake up crew in the mid 80's. Mark has the dedication and reliability to make YOUR event a success! No event is too small, or too large.
One of Mark's favorite things to do is hosting parties and wedding receptions. When he brings his mobile music system out, get ready to get on the dance floor and have a great time!
If you want TOP PROFESSIONAL EQUIPMENT at your function, then Mark McCain is the DJ to hire. He has systems for any size event.
Through his involvement in radio, Mark has had many opportunities to branch out into related fields such as TV and radio commercials, corporate videos, infomercials and narrations. Mark also hosted one of Atlanta's first video music shows on Atlanta's WATL 36 titled "36 jukebox video".
Through these different arenas Mark has a gained basic understanding of people and the knowledge that everyone wants to have a good time, but some of us need a little nudge to get started and that is where he can be the facilitator.
TESTIMONIALS
Mark will be the DJ at our annual Christmas party again this year. This is the third consecutive year he has entertained our employees….With very little effort, he is able to get people out of their seats and onto the dance floor.
Suzanne Z., General Affairs Mgr., Bridgestone
---
Mark played a great mix of music and really enhanced our event…We would definitely use Mark again for another event as he really added that "Extra Spark"!
David M., Business Mgr., Navistar International
---
It was more fun than any ride at Six Flags! I'm talking about Amy and Brian's wedding reception. Everyone had a blast!
Brenda L., Mother of the Bride
---
Thank you for serving as Master of Ceremonies for our Fourth of July celebration. Everyone had a great time and the attendance was up this year.
Richard S., Mayor, City of Powder Springs
---
The first thing I noticed when talking with Mark was his wonderful, professional voice. He made me feel comfortable and allayed many of my fears about our reunion…It was the greatest reunion we have ever had and the entertainment is what everyone will remember.
Karen M.
---
Your selection of music was outstanding and you really kept the party going…I like that you kept the spotlight on the bride and groom.
Sandi Y.
---
I want to thank you for a job well done as a DJ at the 1997 Association of Zoo and Aquarium Docents Conference. What made the evening so special was your ability to get people out on the dance floor whether they had partners or not. You interacted with everyone, dancing and all! — Sandi Y.
---
Elliot Wedding Reception: "great at keeping the flow of the event going and doing exactly as requested from the bride and her mother." Cindy Elliot