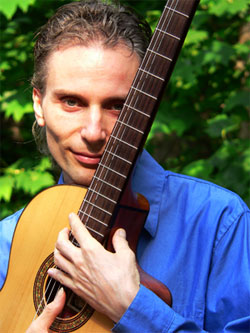 Classical, variety and Spanish flamenco guitarist performing with a laptop computer
Vee began to study guitar at the age of 11 in Poland. He attended The Poznan Conservatory of Music and performed with the Poznan Opera Theatre during this time. In 1989, he moved to the US where he continued to study Flamenco guitar, perform and teach. Vee is currently performing, recording, composing and teaching Flamenco guitar.
Vee has attended master classes and seminars conducted by world famous classical and Flamenco guitarists such as: Narciso Yepes, Pepe Romero, Wolfgang Lendle, Jorge Morel, Dennis Koster, Ricardo Cobo, Ignacio Rodes, Pedro Quadra, Maria Temo, Pedro Cortes, Chuscales and Paco Jarana.
In addition to classical and Flamenco guitar, he plays pop and variety tunes as well. With the addition of background tracks and a sound system, Vee has a rich full sound that everyone loves to listen to.
TESTIMONIALS
"Great job by Vee! This is the second time we have used his services. Very easy to work with an excellent performer – professional!"
Caroline Grimes, Goizueta Business School, East Lake Golf Club, August 28, 2016
——————————————————————————————————————————————
"Vee was wonderful as always!"
East Lake Golf Club Valentines Dinner
——————————————————————————————————————-
"Vee was a great Spanish guitar player. He stayed away from the cheesy guitar tunes or pop culture and played wonderful original Spanish guitar and it made the ceremony absolutely beautiful."
Michele Hebert Wedding – Callonwolde