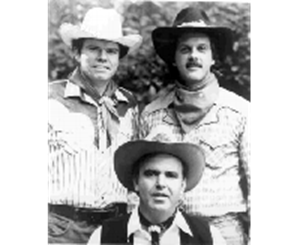 The Buckaroo Boys have played for corporate and private events, wedding receptions, birthday parties, fundraisers and backyard barbeques. In 1990 they played for newly elected Georgia Governor, Zell Miller's victory party at the Colony Square ballroom.
The Buckaroo Boys have been playing together for over two decades. Their versatility combined with intuitive southern style make for an evening of wonderful down home music.
SOUND SAMPLES
TESTIMONIALS
We were very happy with the Buckaroo Boys and our guests enjoyed them so much – wanted us to have them stay longer!! Great selections of songs too.
June Hodge – Country Club of the South
---
The Buckaroo Boys were great!! They played outside at the entrance as the guests arrived for a wonderful start to our evening of Bluegrass Music. Then they strolled throughout the party, taking requests and playing their style of bluegrass. The guests LOVED it! Thank you Axtell for once again exceeding our expectations.
Debra W. – Capital City Club – Downtown
What a fantastic change from out usual entertainment. The guys were GREAT!
Rebecca P. – Atlanta Athletic Club
---
Everyone enjoyed the music. There were many couples on the dance floor most of the time. The Buckaroo Boys greatly contributed to a very successful party.
Ann T. Event Location: Marietta Country Club
---
They loved the Buckaroo Boys. They were extremely polite and professional.
Sunny B. – Naylor Hall
---
As always, the help you all gave was great and the Buckaroo Boys were great to work with. Thanks for your usual good job.
Kit M. – Grady Health Systems Location: Stone Mountain Park
---
Their music made our wedding celebration party!
Becki F.
Excellent act. The lead singer was outstanding!
Gary E. Event Location: Atlanta Hilton & Towers
The Buckaroo Boys were great. We had a wonderful time! Thanks!
Liz A. – Management Recruiters International
---
I'm writing to thank the Buckaroo Boys for helping make our annual party a success. Your music was top-notch and your enthusiasm was contagious. I highly recommend the Buckaroo Boys to anyone and look forward to seeing you again next year. Thank you once again.
John B. – American Candy and Tobacco Co.